Shop Status
The Shop Status is the first page that is displayed when you open the eCommerce module administration. Its purpose is to give you an overview of your Shop's activity.

Table of Contents

---
1. Currencies
2. Orders
3. Statistics
---
1. Currencies
The left hand part of the page displays a list of configured Currencies. For more details on how to set up Currencies, please see Billing Management in the wiki.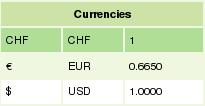 The columns show respectively : Currency Symbol (or Abbreviation), Currency Code, and Change Value.
The first on the list is the Reference Currency, in which all prices are entered in the module administration.
The following lines show Secondary Currencies that are available for shop visitors through the Currency Block (see "Setting up the Blocks" in the Step-by-Step Guide). The Currency Conversion is handled automatically by the system.
2. Orders
The middle part of the page shows the count, by status, of all Orders that customers have done through your Shop.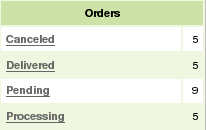 The possible status are :

- Canceled : The Order has been canceled
- Delivered : The Order has been succesfully delivered to the Customer 
- Pending : The Order has just been confirmed by the Customer 
- Processing : The Order is being prepared for shipping

Tip : The hyperlinks are shortcuts to the Orders List with a filter on the chosen Order Status.
3. Statistics
The right hand part of the page provides some handy statistics about your Shop :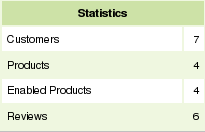 - Customers : The total count of registered customers (i.e. that have created an account)
- Products : The number of Articles that are available in your company 
- Enabled Products : The number of Articles that are enabled in the current shop 
- Reviews : The number of Reviews (i.e. comments) that customers left on your articles