Currency
This tab allows you to define the currencies that your customers will be able to choose to pay orders in your Shop.
1. Reference Currency
The Reference Currency defines the currency in which all prices that are entered in the Shop Administration are expressed. You can have only one Reference Currency.
To set up your Reference Currency, please follow the following steps :
- Locate the "Major and secondary currency on invoice" section
- Select the Reference Value from the drop-down list
- Enter a currency symbol or abbreviation in the "Currency" text field
- Decide if customers shall receive bills that have values written in both their currency (if defined) and the Reference Currency. If not, make sure to tick the corresponding checkbox.

2. Secondary Currencies
You may now give your customers the possibility to pay using currencies other than the Reference Currency. You can set up as many Secondary Currencies as you like.
To add a Secondary Currency :
- Locate the "Option for second currency on the invoice" section
- Select the Country in which this Currency is active using the drop-down list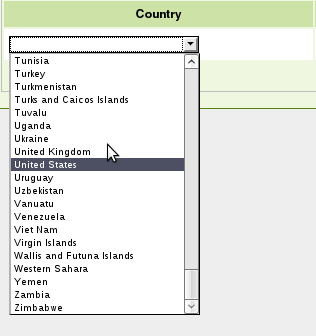 - The remaining fields (Abbreviation, Code, Value and Auto update) are automatically filled by the system. You may change any of them (excepted "Code") before clicking the "Add" button, which will save the new Secondary Currency.
Note : The "Auto update" option allows the Value to be synchronized every day with the current currency rates.


The newly created Secondary Currency now appears on the list.
Exercise : Set up the Swiss Franc as a Secondary Currency. When done, the list should look like this :


You may now freely add more Secondary Currencies, or delete the unnecessary ones using the corresponding "Delete" button.